Our Story
How We Met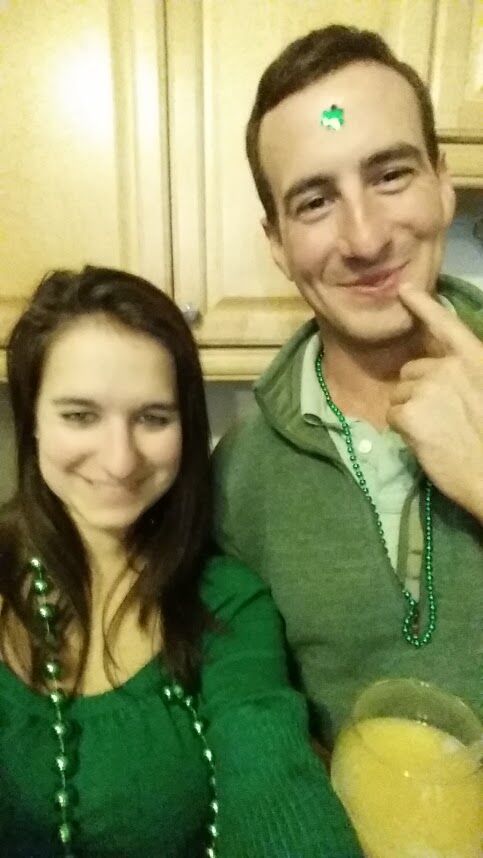 He said: It was a Saturday in September and I had to be up around 3:30am for work. When I got home around noon, my friends were hanging out so I joined them. Later that night, we went to Nicole's birthday party where Jenessa and I met playing some games. After a few rounds, we peeled off on our own and talked. It was just me and her. It had to be past midnight when I decided to head home and go to bed. The next morning Brett and Alex couldn't believe that I took off so early since Jenessa and I were hitting it off so well. Turns out my early morning caught up with me and I went home around 8! We picked up right where we left off a few weeks later. We bonded over a great fantasy football performance by Matt Ryan versus the Tampa Bay Bucs and joked about what color teal actually is. To this day, her picture in my phone is a teal color block.

She said: We met at Nicole's Birthday party in September of 2014. Alex, who was recently dating Brett, invited all of Brett's friends to the party as well. During a game of flip cup, Connor and I met teeing off against each other with me beating him every time. I thought he was cute and we started talking away from the game in action. Mid conversation, Connor abruptly left and went home. Everyone thought I scared him away! A few weeks later, we exchanged numbers at a Patriots vs. Falcons football game at our favorite local bar, Stats (I'm pretty sure this was Alex's birthday weekend too) and started seeing each other ever since.

Shockingly, the photo below is the first photo we have of us together. We are celebrating Saint Patrick's Day 7 months after we met.
How we fell in love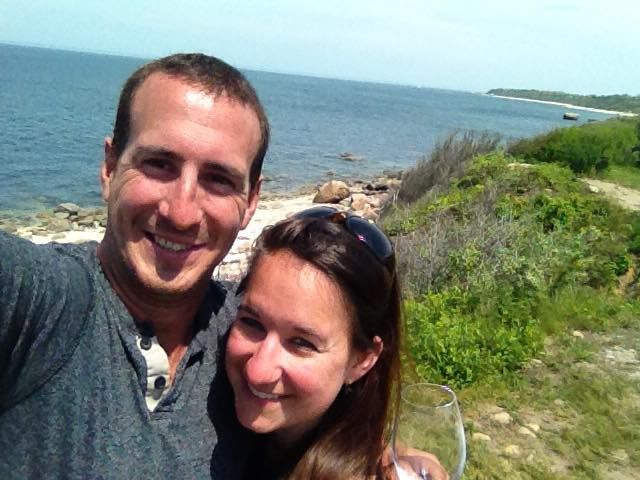 He said: Jenessa and I hit it off right away. Every time we got together we had so much fun. The more we hung out, the more I was sure she was the one. We can sit home and play Rummy on a Saturday night and have just as much fun as if I were showing her off at my company Christmas ball. Jenessa is the most driven person I have ever met and she helps motivate me to be the same. I try my best to make her smile and take a break every once in a while.

She said: Connor was a cute and funny but to be honest I wasn't convinced I wanted to date him at first. However, he wore me down with jokes and ultimately an extremely delicious spinach salad and steak. He really knew me and accepted me for my own quirks. One could say, we bonded over our mutual weirdness and love of playing games. He just makes me happy and that is all.
How he proposed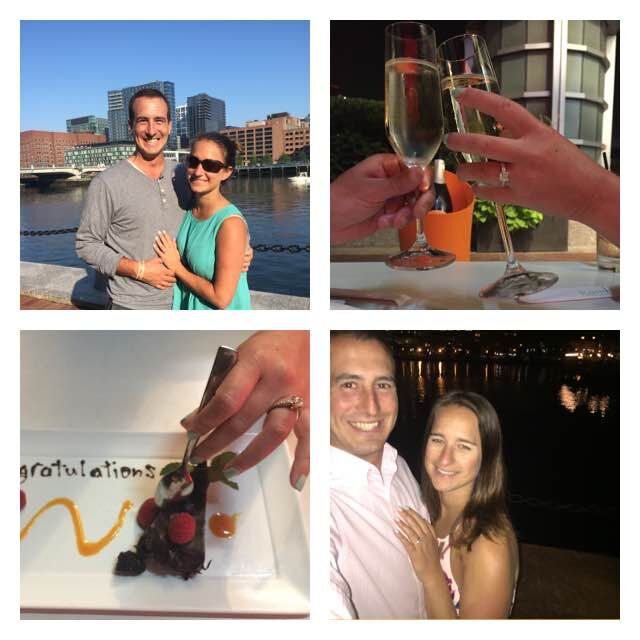 He said: I had been wanting to propose for a while and was waiting for the perfect opportunity. I have never been much of a planner, so after trying to plot the perfect proposal for a while, I couldn't wait any longer to start our life together. Jenessa and her friends had plans to go to the Southie Street parade. I told them that they should all go together to keep the ladies tradition going. As soon as they left, I packed an overnight bag for me and her and drove down to the hotel on the harbor. I checked in an dropped our bags off and headed back home to meet them at Lawn on D. Now all i had to do was find a reason to get back to the harbor. I texted Jenessa that I had made us sushi reservations for 5 o'clock, which would normally be ok, but they were serving oysters at Lawn on D and it was about 3 o'clock. Luckily, Jenessa was so happy that I planned a dinner that she agreed. I grabbed the ring, and hid it in my raincoat pocket. We had some fun with our friends and when 4:30 rolled around, I had to rush us out of there to get to our fake reservation. We walked over and when we got there I told Jenessa that we should sit and look at the water for a little bit. I told her that there is no reservation, but that I want to spend the rest of my life with her, have a family, see the world and I love her. She said yes!
She said: 3 years later during that Alex's Birthday weekend, he proposed. (I always knew Alex's birthday was one of my favorite holidays). It started out like any other sunny Saturday in Southie - Full of activities! Ali and I woke up and got delicious bagel donuts and were planning to go to the South Boston Festival and get dollar oysters at lawn on D in the afternoon. At last minute, Connor backed out and refused to go. Apparently, he had to "get organized". While at the fair, Connor had texted me to see if I wanted to get sushi reservations for 5:00. Though thinking it was weird, since we were planning to meet up and get dollar oysters at 3:00, I still thought the planned date sounded fun! We met up to go to lawn on D and Connor was trying to convince us that it was going to rain. He packed an umbrella and a rain coat (he was hiding the ring her the entire time). 5:00 came and we walked down to Atlantic Warf, he pulled me over to a bench confessing that there were no dinner reservations but that he did want to spend the rest of his life with me. He got down on one knee and proposed. I obviously said yes!
The Wedding
Sunday, July 22, 2018
2:30 PM
Ceremony
St. Timothy Catholic Church
650 Nichols Steet, Norwood, MA 02062, USA
Reception
Grand View
6 Nipmuc Drive, Mendon, MA 01756, USA
The GPS will show you many ways to get from St. Tim's to GrandView.
We recommend going 495 South. These directions are best.
Wedding Party
Billy Purdy - Best Man
In the fall of 1996, the cafeteria at James Wilson Young Middle School was a house divided, with the sixth grade lunch tables segregated between Blue Point, Sylvan and Academy Street Elementary Schools. At least it was like that until Bill, from Academy Street, and Connor, the most popular kid from Blue Point, took a risk and decided to sit together, thus uniting the 3 schools and sparking a lifelong friendship (20 years and counting) that continues to thrive, in spite of the distance between NYC and Boston. Bill taught Connor how to throw a curveball with his index finger up and introduced Connor to Pokemon (Jenessa, you can thank Bill for that), Con taught Bill about Seinfeld and the Simpsons, and together they presided over the middle school Spanish club as co-presidents. Innumerable bonding moments have occurred since that fateful day in the cafeteria, from cutting class to play golf, spending a sleepover playing a 24-hour plus Madden marathon, inventing many new sports (1 on 1 on 1 on 1…, CONtact, etc.) to the fateful hour long phone call when Con told Bill he purchased a ring and planned on proposing to Jenessa. Both are looking forward to many more incredible moments to come, starting with this wedding.
James Farrell - Groomsman
James is Con's oldest brother, so they've shared a lot over the years. Early family vacations crammed in the way back of a station wagon driving to Vermont and Virginia, college cruises to the Caribbean, golf outings, trail runs in California, camping in Colorado, brother reunions in Barcelona, and just last year getting crammed into a mini-van to run 200 miles across the state of Oregon, so maybe not that much has changed. On one of these trips, sitting outside of a cabin in Yosemite, it became clear how much Con cared about Jenessa, and James has been fortunate enough to get to see firsthand how happy they make each other on many occasions since.
Ryan Farrell - Groomsman
Ryan is one of Con's two older brothers. They are the two middle kids between James and Matty. When they were young, they got into lots of fights, as middle children do. Today, Ryan cannot remember a single cause of any one of those fights, but he can remember very vividly one specific casualty.
The year was 1993. The Mighty Ducks was everyone's favorite movie and Ryan's favorite new hockey team. Ryan was 11 and Connor was 8: two mere ducklings. A skirmish broke out over one stale piece of bread or another and suddenly Connor darted out of sight, up the stairs toward Ryan's room. Ryan paused, thinking Connor was simply fleeing, afraid of his daunting older brother, a more cowardly fowl. But there was a certain flap to Connor's wing: not fear, but purpose. He was not fleeing from Ryan, he was flying toward the thing Ryan loved the most: his Mighty Ducks hat.
By the time Ryan arrived, it was too late. Feathers were everywhere. There was Connor, sitting on the floor, panting and pleased, hat in hand, brim bent not in half, but in quarters, an extended W. That embroidered duck would never fly again.
But yesterday's childhood skirmishes are today's joy, pride and love in watching his brother build a life together with Jenessa. As Connor and Jenessa embark on the big "M" together, Ryan cannot wait to welcome Jenessa to the Farrell's Flying V.
Matt Farrell - Groomsman
As the youngest of the four Farrell brothers, Matt had the great fortune of having the path to success paved for him, three shoulders wide. He also had the misfortune of years of beatings, three times over. He credits these years of losing to his older brothers in everything, from wiffleball, to hit-hit, to jeopardy, for the successes he had later in life, including; back-to-back little league championships (cementing himself atop the Farrell boys as best baseball player), multiple opportunities to compete in sports internationally, and attaining his actuarial certification. He is currently working in France as an actuary and can't wait to be back stateside for the wedding!
Jake Zorski - Groomsman
Jake and Connor's friendship began 14 years ago back in 2004 at Boston College Cross-Country camp. It didn't take long for them to find out how much fun they have when they're around each other. Whether it's hanging out, socializing, watching sports, playing sports, going for runs or even cross-country drives, we were always having great times together. We certainly made a lot of great memories both in and out of college and especially when we lived in Santa Monica, California together for a year. One of the best parts about our friendship is that we always have each others backs and we're always there to help each other out in any aspect of our lives. It's been so great to see him continue to grow up into a better person each and every year and I am very excited to see him take on this next step in his life with the true love of his life Jenessa.

Brett Fiorovanti - Groomsman
Connor met Brett his freshman year of college at BC through the track team. They instantly had a connection, as Connor was from Long Island and Brett was from New Jersey; their love for the Yankees while living in Boston created an unbreakable bond. Not only did they eat, sleep and breathe track and Yankees, but they discovered their mutual love for golf and played Newton Commonwealth whenever they could. After college, Brett and Jake lived together in Boston and convinced Connor to move back to the city. They all moved into their make shift frat house on East Fifth where they played countless rounds of darts, drank a lot of beer and watched too many episodes of Game of Thrones and Breaking Bad. One Saturday night, Brett asked Connor to join him and attend his new friend (Alex) for her friend's (Nicole) birthday party; little did they know, this would be a night that changed Connor's life forever. Connor was roaming Alex's house looking for Brett, when he met a girl named Jenessa who was one of Alex's best friends. They talked the rest of the night and he knew she was something special. From then on, Alex, Brett, Connor and Jenessa were rarely seen apart; they even all moved in together. Not much has changed with Brett and Connor; they both still love golf, still love the Yankees, still love Game of Thrones; and now they both love girls from Walpole! Brett is so excited for Connor and Jenessa!
AJ Rossi - Groomsman
AJ is the Bride's brother. He has known her for 25 years. He is excited that his sister has found someone as awesome as Connor. There is now another member of the family that can lose to Dad. AJ said "it was awkward hearing Connor ask Dad's permission on the golf course." However, he knew this tradition would make our parents and sister happy. After all, Jenessa always woke him up early Christmas morning to open the gifts from Santa. While Jenessa might make jokes about the restaurants AJ picks for family dinner, AJ is not joking about Jenessa's pick for her husband.
Matthew Rossi - Groomsman
Matthew is the Bride's youngest brother. He has known her for 22 years. Matthew overhead Connor's ask for permission on the golf course and finally realized why Connor was playing so bad that day! Connor may not have got a hole in one on the course but definitely got victory with his sister! After a few years of being tormented by Jenessa with playing dress up and being told to respect his elders, he's happy Jenessa found a man to lovingly torment.